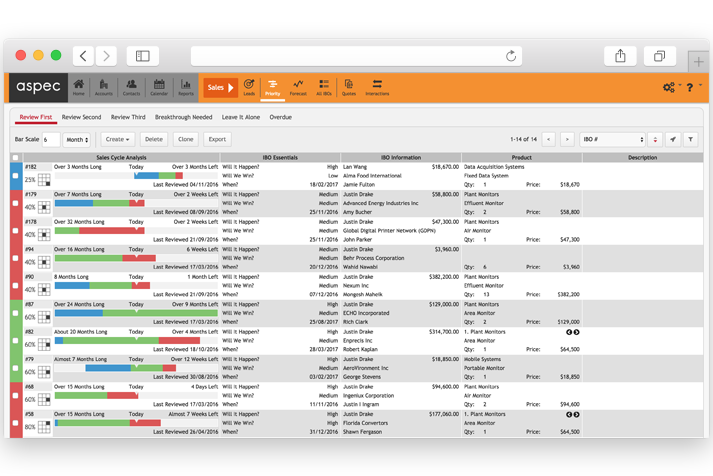 Release 5 Brings Full-Circle CRM to ASPEC Users – Marketing, Sales, & Service
SalesWays has released the newest version of the acclaimed ASPEC CRM app, the first and only sales-centric CRM system. Version 5 enhances and optimizes the existing ASPEC functions and adds many new ones. Most significantly, the new after-sales service and support module.
Now ASPEC users can develop and manage a complete customer relationship cycle, from the start with marketing campaigns to find and qualify new customers, right through to providing the best possible support for their needs after you have won their business.
And in-between, winning more of those customers with the patented ASPEC sales methodology.
SERVICE & SUPPORT
ASPEC Service & Support starts with a complete database of the products and projects that you have won. Picking up the information from the sales order after you close the deal, ASPEC Service creates a separate Device record with all relevant information for every product or project that you sell. Incoming Service Requests or preventative maintenance activities are tied to the device and form a complete history. Service Orders are initiated and recorded to define, schedule, manage, and track the work, completing the service history. ASPEC Service & Support covers warranty and service contract work, and includes custom fields and forms, integration with MS Word, export/import with Excel, and all the other CRM features of ASPEC CRM.
EXPANDED EXPERT COACHING AND REPORTING
ASPEC Expert sales coaching has been enhanced to add it to all list views and reports. Instantly see and share Expert's evaluations and conclusions to be sure you're doing what needs doing, when it needs doing.
ENHANCED ANALYTICS
ASPEC has always provided for unique analytical possibilities through its computer model of the sales cycle, and the ability to use it's factors to measure the previously unmeasurable. The in-app analytics have been enhanced to include new sales cycle analysis right in the Dashboard.
CONDITIONAL CUSTOMIZATION
ASPEC already features unlimited custom fields and page layouts to give you exactly what you need, where and when you need it, in your lists and reports. Now, custom fields and layouts can be made conditional on information in other fields. For example, if you select Manufacturing in a custom field of industry types, all the following fields and layouts will be formatted and populated to give only Manufacturing options.
COMING SOON
Custom dashboard – pick and place your Dashboard widgets.

Activity monitor – customize multiple computer models for mandatory and optional activities and then analyze the performance.

Territory management – Set up territories, make assignments, monitor activity and results, and quickly make global changes.

Data quarantine – import un-validated lists and hold them for vetting before putting them into your production system.

Google Apps integration – integrate with Google apps and docs.

More Service features – like expanded search and filtering, service workflows, roles, and more.