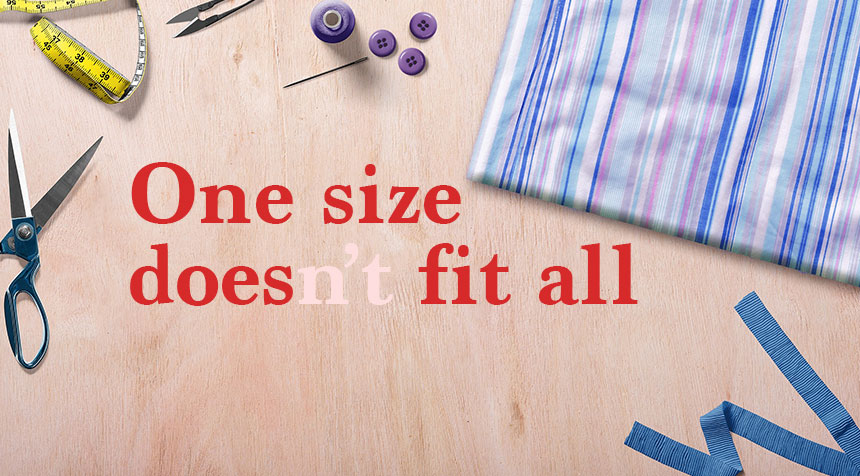 Jarka Jarmola continues her story on how to make the CRM software fit like a glove!
In the Post 1 we talked about how to modify or augment a standard out of the box CRM software app to make it suit your exact needs. The options are customization and configuration, and in Post 2, the ins and outs of customization were on the table. Now, we move onto configuration.
Configuration is an alternative approach to adjusting an off-the-shelf product.  But this time the tools are provided by the designer and vendor of the application. In theory, this should be a lower cost solution and more controllable by the customer.
First, there is no need to write any new line of custom code. Because of this, configuration allows for long deployment cycles.
If the vendor of the standard product makes changes or upgrades, any previous customer setup will stay intact.  It is the vendor's responsibility to deliver new versions seamlessly. Release upgrades are in the license cost, because the configuration features are a part of the standard product
The tools provided by the original vendor will have a robust design because the standard product is based on the experience of a myriad of users. Rest assured, the users of the final app will be the best judge of its stability and robustness. They can get very vocal if things go wrong!
Some software products are frameworks rather than an application.  The frameworks are conceived to be built upon, and usually require a specialized team to configure and maintain.  You've probably heard about certifications in configuration and management of some software products. Large-scale software roll-outs require designated experts to administer them.
ASPEC configuration tools are a result of 20 years of the development and customization of our flagship products.  We learned that administrators want intuitive, fast setup tools and easy report design. After all – managing ASPEC is not their full-time job.   Moreover, administrative work is performed by business rather than IT, so you won't find any intimidating high-tech gizmos in ASPEC.
Immediately after signing up, ASPEC works out-of-the-box as is.  The next step is to move to adding teams, granting permissions and configuring other company-wide defaults.  Many defaults are already set to reduce the effort of proper application configuration. The rest of ASPEC setup menu is also very simple and intuitive.
Following the user setup, role assignment and company-wide general options, administrators proceed with deciding on the configuration of Accounts, Contacts, Opportunities and other forms.
Each form has its setup for custom field. Custom fields – required or optional – are added in a matter of seconds.   Supported formats include text, text area, date, decimal, integer, formula, lookup. All custom fields are automatically available for searching and for reporting, with the options that reflect the field type.  For example, selecting a date fields in a search box results in an option to look for a date range, before date, after date etc.
After the form configuration, it's time to move on to setting the export templates and reports.   From what we heard, this part is dreaded by most people who had to oversee reports in many products.
Authorized users can extract the data from ASPEC in any format they wish.  They set up the format once, using a simple drag and drop on a single screen.  The recipient list and the data follow the access rights setup, so the reports deliver only the appropriate information to designated users.
After the ASPEC configuration is completed by the administrator, individual users can adjust their personal preferences.  They can set up their views, filters, language, email notifications and many other options.
Voila! ASPEC is ready.
In the next post I will provide a few examples of advanced form configurations to illustrate how easy it is to work with ASPEC Setup.